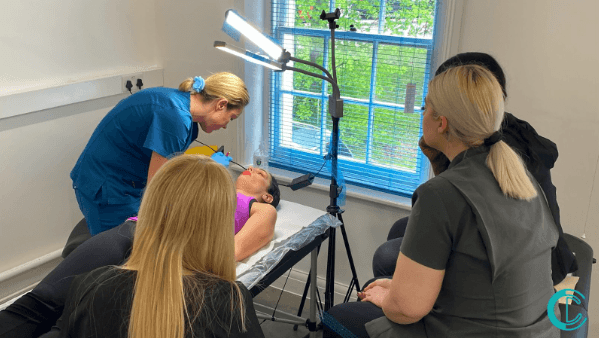 How to Become a Permanent Makeup
Artist
Becoming a Permanent Makeup Artist: A Comprehensive Guide
Becoming a permanent makeup artist is a rewarding career choice for those who have a passion for beauty and want to help others feel confident in their appearance. This guide will walk you through the steps to become a successful permanent makeup artist.
The UK's beauty industry is booming, with the brow market alone valued at an impressive £20 million. One of the fastest-growing and most profitable sectors within this industry is permanent makeup, also known as cosmetic tattooing. This field offers a wealth of opportunities for career progression, whether you're interested in working independently or seeking employment with a salon or clinic that offers permanent makeup services.
The Journey to Becoming a Permanent Makeup Artist
The journey to becoming a permanent makeup artist can be both exciting and challenging. It requires a significant investment in training, equipment, time, as well as a strong commitment to mastering the art of permanent makeup. The industry has seen a surge in popularity as more and more people embrace permanent makeup treatments.
The Importance of Quality Training and Equipment
To establish a successful career in the field of permanent makeup, it's crucial to invest in quality training and equipment. This not only ensures that you're equipped with the necessary skills and knowledge to perform treatments safely and effectively, but also helps you meet the regulatory requirements for practicing in your local area.
Choosing the Right Qualification
In the UK, many local authorities now require permanent makeup artists to hold at least a Level 4 qualification, such as the VTCT Level 4 Micropigmentation qualification. This advanced qualification is designed specifically for beauty therapists and covers a range of essential skills and knowledge areas, including the principles of micropigmentation, how to manage health, safety and security in the salon, and how to enhance your professional development.
Before embarking on a training course, it's advisable to check with your local council to find out what qualifications are necessary for you to practice permanent makeup in your area. This will ensure that your training aligns with the regulatory requirements and prepares you for a successful career in the industry.
Finding the Right Tutors
Another important aspect of your training is finding tutors that you can relate to and work with effectively. Permanent makeup has a steep learning curve, and having tutors who understand your learning style and can provide personalised guidance and support can make a significant difference to your progress.
When choosing a training provider, look for those who have experienced tutors with a strong track record in the industry. It can also be beneficial to speak to past students to get a sense of their experiences and the level of support they received.
Investing in Quality Equipment
In addition to quality training, it's also crucial to invest in high-quality equipment that meets UK and EU safety standards. This includes the tools and products you use for treatments, as well as the hygiene and safety equipment you need to maintain a safe and professional practice.
During your training, you'll likely be taught how to use certain products from a specific brand. However, it's worth doing your own research and asking industry peers for their recommendations. This will help you find products that not only meet safety standards, but also align with your own preferences and work style.
In conclusion, quality training and equipment are fundamental to your success as a permanent makeup artist. By investing in the right qualification, finding supportive tutors, and choosing safe and reliable equipment, you can set yourself up for a rewarding and successful career in this exciting field.
The Potential Earnings of a Permanent Makeup Artist
The earning potential for a permanent makeup artist is significant. The cost of services can range from £75 to £800, with some elite consultants charging as much as £1,000. While a successful technician could earn in excess of £100,000 a year, the average salary is estimated to range between £30,000 and £50,000 per year.
The Benefits of Working for Yourself vs Working for a Business
Whether you choose to work for yourself or for a business, there are benefits and drawbacks to both. Working in a salon or rented space can provide a regular income and the opportunity to build long-term client relationships. On the other hand, working for yourself offers flexibility and the potential for higher earnings.
The Importance of Marketing Your Services
Marketing is key to building a successful career in permanent makeup. This includes setting up a website, using social media to showcase your work, and networking within the industry. Word-of-mouth is also extremely important, so building a solid reputation is crucial.
The Opportunities Once You are Qualified
Once you're qualified, the opportunities in the industry are endless. You could choose to specialise in a particular area, such as medical tattooing or scalp tattooing, or you could become a generalist. There are also opportunities to become a trainer or a distributor, or to work internationally.
In conclusion, becoming a permanent makeup artist is a rewarding and potentially lucrative career choice. It requires dedication, investment, and a commitment to continuous learning and improvement. However, for those who are passionate about beauty and helping others feel confident in their appearance, it can be a fulfilling and exciting career path.
How Much can a Permanent Makeup Artist Earn?
A Permanent Makeup Artist in the UK can earn a substantial income, with the potential to increase as they gain more experience and build a solid client base. The exact amount can vary widely depending on several factors, including the artist's location, level of expertise, the number of clients they serve, and the specific services they offer.
In the realm of beauty and aesthetics, permanent makeup is a highly sought-after service in the UK. As a Permanent Makeup Artist, you can offer a variety of treatments such as microblading, micropigmentation, and cosmetic tattooing. These services not only enhance your clients' natural beauty but also save them time in their daily routines, making them highly valuable.
On average, a Permanent Makeup Artist in the UK can earn anywhere from £30,000 to £60,000 per year. However, top professionals in high-demand areas can earn significantly more. For instance, a microblading session can range from £150 to £500, and considering that the procedure typically needs touch-ups every 1-3 years, repeat clients can contribute to a steady income.
Moreover, by continuing to advance your skills through professional development courses, like those offered at Cosmetic College, you can expand your service offerings and increase your earning potential. For example, our VTCT Level 4 Certificate in Micropigmentation course equips you with the expertise to launch a successful career in the booming permanent makeup industry.
Remember, as a Permanent Makeup Artist, your income isn't just about the number of clients you serve. It's also about the quality of your work, your reputation, and your ability to provide a great customer experience.
Sign up for our newsletter
Events, news and information not just for students but for the industry as a whole!